The United States International University-Africa (USIU-Africa) is delighted to announce its collaboration with the Mastercard Foundation for the Scholars Program commencing in Fall 2024. This remarkable partnership seeks to offer academically gifted African youths, grappling with challenges such as financial constraints, gender barriers, displacement, or disabilities, a golden opportunity to pursue top-tier university education.
About the Scholars Program
The Mastercard Foundation Scholars Program at USIU-Africa is committed to granting full-cost scholarships to African individuals seeking an undergraduate degree for the first time. The aspiration is to foster a community of scholars who, upon completing their studies, are not only armed with internationally acknowledged and locally pertinent qualifications but are also motivated to be agents of change within their respective communities. These scholars will be champions of meaningful continental transformation.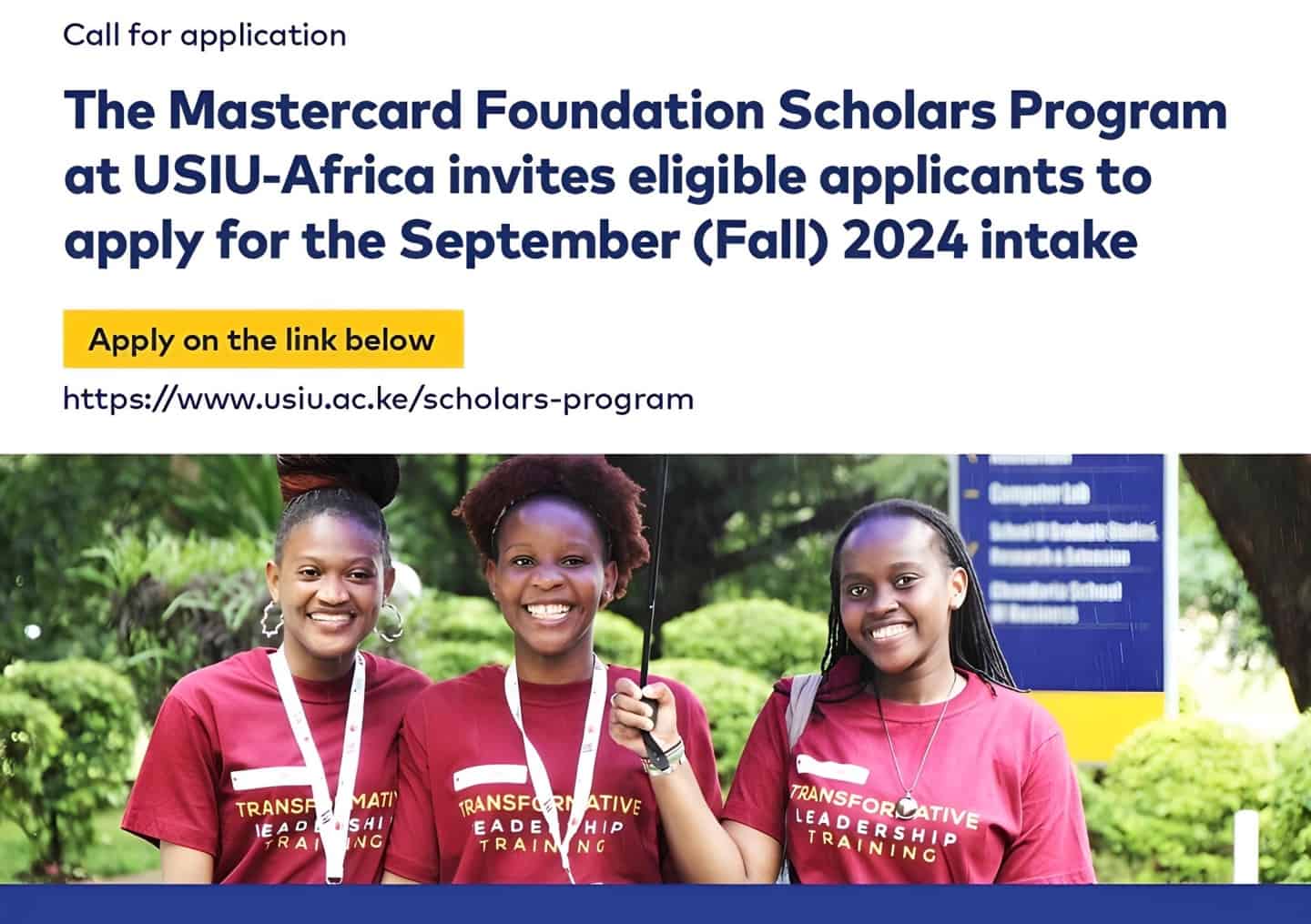 Key Benefits
The fortunate scholars under the Mastercard Foundation at USIU-Africa will benefit from a comprehensive support package that includes:
Full coverage for tuition and functional fees
Provision of laptops, books, and vital learning materials
Suitable accommodation and meal provisions
Comprehensive medical insurance
A monthly stipend
Round-trip transport from home
Access to leadership training and entrepreneurial workshops
Essential psycho-social support, alongside career counseling and mentoring
Reasonable provisions for any disability-related needs
Eligibility Criteria
To be considered for this esteemed scholarship, applicants:
Must be aged 29 or younger at the application deadline
Should meet the minimum university entry grade (C+ or its equivalent), as mandated by the Kenya Commission for University Education. For those eyeing courses within the School of Pharmacy and Health Sciences, a mean grade of B- or equivalent is mandatory, along with a minimum grade of C+ or B- in English, Mathematics, Biology, and Chemistry.
Must express genuine interest in one of the sanctioned 13 undergraduate programs at USIU-Africa, spanning various schools including the School of Science and Technology, School of Pharmacy and Health Sciences, School of Communication, Cinematic and Creative Arts, Chandaria School of Business, and the School of Humanities and Social Sciences.
Should have a documented record of leadership and community engagement
Must be able to demonstrate socio-economic disadvantage
How to Apply
Applicants keen on this transformative opportunity can download the application form here or collect a physical copy at no charge from the Mastercard Foundation Scholars Program Office located at the School of Graduate Studies, Research and Extension, 2nd floor.
Before submission, candidates are urged to diligently review all guidelines and essential information. Completed applications, accompanied by the necessary supporting documents, should be submitted electronically in PDF format. Ensure that the email subject includes your name and nationality and direct it to: [email protected]. Alternatively, drop off your application at the Scholars Program Office on the USIU-Africa campus or send it by post to:
Program Director,
Mastercard Foundation Scholars Program,
United States International University – Africa,
P. O. Box 14634 – 00800,
Nairobi – Kenya
Further Information
For a deeper dive into the program and more specifics, kindly visit the MCFSP page at USIU-Africa.
Application Deadline: November 24, 2023
All the best in your pursuit!