Caring for the elderly is a noble and rewarding responsibility. As our parents, grandparents, or other beloved seniors age, they may require more assistance and attention. Providing them with exceptional care not only ensures their well-being but also enriches their quality of life. In this article, we'll explore some invaluable healthy tips on how to take care of the elderly with love, compassion, and professionalism.
How to Take Care of the Elderly
1. Create a Safe and Comfortable Environment
The first step in caring for the elderly is to make their living space safe and comfortable. Ensure that their home is free from tripping hazards, well-lit, and equipped with essential safety features like handrails and non-slip mats. A clutter-free and organized environment can greatly reduce the risk of accidents.
2. Establish Effective Communication
Open and honest communication is vital when caring for the elderly. Encourage them to express their feelings, concerns, and preferences. Actively listen to what they have to say, and involve them in decision-making whenever possible. This fosters trust and respect, making them feel valued and heard.
3. Monitor Health and Medications
Regular health check-ups are crucial to detect and address any health issues promptly. Keep a record of their medications and ensure they take them as prescribed. Consult their healthcare provider regularly and stay informed about their medical conditions, treatments, and any necessary dietary restrictions.
Taking Care of the Elderly…
4. Promote a Balanced Diet
A well-balanced diet plays a pivotal role in maintaining good health. Prepare nutritious meals that cater to their dietary needs, and encourage them to stay hydrated. Consider consulting a registered dietitian for personalized dietary plans if necessary.
5. Encourage Physical Activity
Physical activity is essential for maintaining mobility and overall health. Encourage your elderly loved ones to engage in suitable exercises like walking, yoga, or chair exercises. Regular physical activity can improve their strength, flexibility, and mental well-being.
6. Provide Emotional Support
Old age can sometimes bring feelings of loneliness and isolation. Spend quality time with your elderly family members, and involve them in family gatherings and social activities. Engaging in meaningful conversations, playing games, or pursuing hobbies together can boost their emotional well-being.
More Helpful Tips…
7. Maintain a Routine
Establishing a daily routine can provide a sense of stability and security for the elderly. Stick to a regular schedule for meals, medication, exercise, and rest. Consistency can help them feel more in control and reduce anxiety.
8. Seek Professional Assistance
If the care needs of your elderly loved one become overwhelming, consider seeking professional assistance. Home healthcare aides, geriatric care managers, or assisted living facilities can provide specialized care tailored to their needs while allowing you to maintain a healthy work-life balance.
9. Be Mindful of Their Mental Health
Mental health is just as important as physical health. Keep an eye out for signs of depression or anxiety. If needed, consult a mental health professional who specializes in working with the elderly. Activities like puzzles, reading, or art can also stimulate cognitive function and emotional well-being.
10. Take Care of Yourself
Finally, remember that caring for the elderly can be emotionally and physically demanding. Don't forget to take care of your own well-being. Seek support from family, friends, or support groups, and consider respite care when you need a break.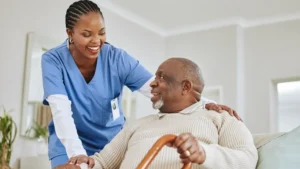 Caring for the elderly is a labor of love that requires patience, dedication, and empathy. By creating a safe environment, promoting physical and emotional well-being, and seeking professional help when necessary, you can provide exceptional care for your elderly loved ones. Remember that every elderly individual is unique, so tailor your care approach to their specific needs and preferences. Your efforts will not only improve their quality of life but also create lasting, cherished memories for your entire family.