In the ever-evolving global landscape, young individuals often carry the torch of innovation and service, tirelessly working toward the betterment of society. Recognizing the boundless potential in such young minds, the Rise Challenge 2024 invites applications from young aspirants across the globe, offering them unparalleled opportunities and resources to hone their skills and fulfill their aspirations.
About the Rise Challenge 2024
Initiated by Schmidt Futures in partnership with the Rhodes Trust, the Rise Challenge is a flagship program supported by Eric and Wendy Schmidt's monumental $1 billion commitment to discovering and nurturing global talent. The ethos of Rise is deeply rooted in identifying promising young individuals, aged 15-17, and furnishing them with lifelong opportunities, mentoring, networking, and more as they ardently work towards addressing the world's most pressing challenges.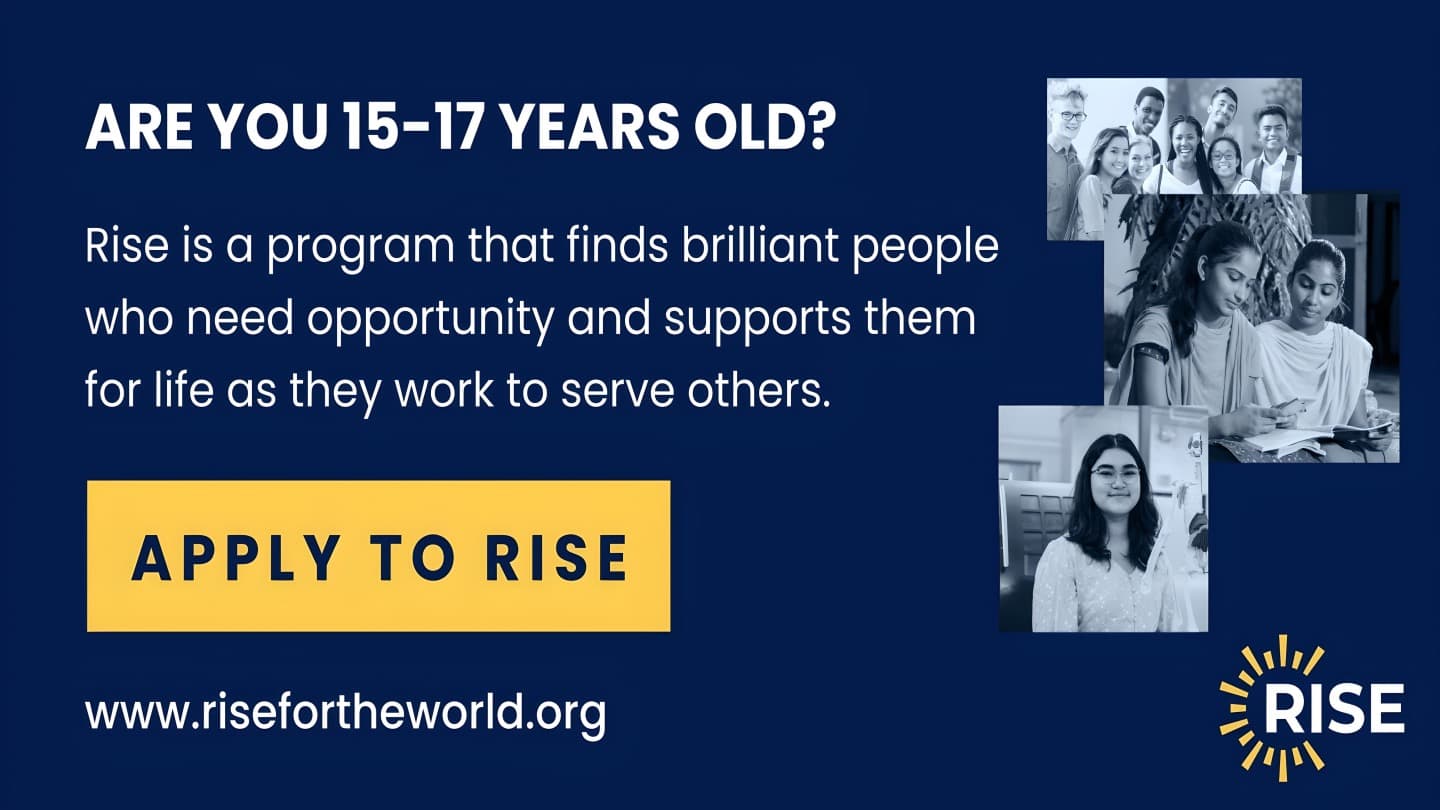 Program Benefits
Winners of the Rise Challenge are entitled to an array of benefits, aimed at enriching their journey and ensuring they have all the necessary tools at their disposal:
Residential Summit: An exclusive, fully-funded summit allowing Global Winners to connect, collaborate, and learn together.
Higher Education Scholarships: Comprehensive scholarships spanning four years of post-secondary education, inclusive of tuition fees and living stipends.
Innovative Funding Opportunities: A unique chance for Global Winners and Finalists to secure funding for pioneering ideas aimed at community betterment.
Networking Opportunities: Access to a vast network comprising fellow winners, community members, partners, and extensive career development resources.
Starter Technology Packages: Essential tech gear, such as laptops or tablets, geared towards assisting students in their post-secondary education journey.
Eligibility Criteria
The Rise Challenge is inclusive and welcomes applications from every corner of the globe, irrespective of one's academic background. From budding scientists and tech enthusiasts to artists, community leaders, and more, Rise believes in the power of diverse talent.
Applicants for the 2024 cohort should be aged between 15 and 17 as of July 1, 2024.
The program is open to all, regardless of geographical location or academic experience.
Unique Qualities of Rise Global Winners:
The Rise Challenge seeks individuals who not only excel in their respective domains but also embody the core Rise traits:
Brilliance
Perseverance
Integrity
Empathy
Calling
How to Apply
Rise has adopted a multifaceted application process, allowing applicants to vividly portray their skills and potential. From videos and projects to group interviews, every step of the application is designed to bring out the best in each individual. Moreover, understanding the challenges posed by technological barriers, Rise also offers alternate low-tech pathways for those without access.
For a more comprehensive understanding and to begin the application journey, visit Apply to Rise.
For an in-depth overview of the program, explore Rise Challenge's, Official Page.
Application Deadline: January 17, 2024.
This is a clarion call for all young visionaries and change-makers. The world awaits your brilliance. Seize this unparalleled opportunity and let your ideas rise to the forefront.
All the best in your pursuit!